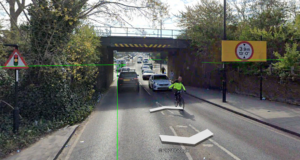 Bell Green Action Group
Restoring Our Neighbourhood Voice
HELLO BELLINGHAM WARD IN LEWISHAM!
Welcome – here you can discover what is happening with a proposal to form a new body that will represent the views of Bellingham Ward residents and businesses.
Sept 2021
Introduction
This is a call to ALL residents and businesses in Bellingham Ward.
Do you believe a time has been reached to have our views about plans, developments and other issues collated and expressed by a body that has been formed by and of residents and businesses for the whole Bellingham Ward and is empowered to make representations to the council of the London Borough of Lewisham?
Would you see the formation of such a body as being desirable if not actually essential?
Are you aware that a civic society based in Sydenham, the Sydenham Society, and LB Lewisham town planners have prepared and published two draft Master Plans about proposals and redevelopments in our Ward, with very substantive and large-scale schemes for redevelopment centred around Bell Green?
Is it acceptable that the council and Sydenham Society have failed to manage or to conduct meaningful consultations with any significant number of residents and businesses of Bellingham Ward during the preparation phase for those plans?
Would you consider it to be acceptable that both bodies make reference to such consultations as having taken place when they have in fact not been conducted?
Did you know the Sydenham Society Chair has been making applications to the council over the last few years to have properties in Bellingham Ward listed as Assets of Community Value as part of a campaign over an area extending beyond Sydenham boundaries and on a unilateral basis. The Chair lives in the Thorpes in Sydenham, has very little connection with Bellingham beyond the point that it as a near neighbour, believes an entitlement exists to conduct Sydenham Society activities outside their civic society's area of benefit and, most importantly, without the advantages of consultation within our Ward.
The absence of a civic society centred on and acting for the benefits of our businesses and residents does not provide a reason for other unrepresentative bodies to engage on proposing schemes for our Ward.
All-in-all would you view it as possibly being the case that the voice of our Ward has been silenced or at least displaced by these activities driven by bodies who do not represent us?
This website has been set up as a preliminary step to assist in identifying whether any Ward view and desire exists to address these issues and is there an emerging body of residents and businesses willing to engage in the steps required to form a representative body.
My name is John Doherty. I am a resident of the Ward and live on Perry Hill near the junction of Lescombe Road and live within 200 metres of the Livesey Memorial Hall and the site of the former Bell Green gasholders and as such consider myself to be a near neighbour of those locations.
My personal email address is [email protected], my Twitter identity is @OneRealJGD and I post on local forums using either my own name or the initials JGD.
Please drop me a note if you are interested in having a chat, want to contribute to this website or simply discuss any issues you have.
A Proposal
The Formation of a new Civic Society and a Neighbourhood Forum
There is no body in either the form of a Civic Society or Neighbourhood Forum that has, yet, been established or constituted and represents Bellingham Ward.
The initial and primary purpose of this website is to act as a communication channel in which residents and businesses can read about, engage and in the very near future express their views that can then be displayed and debated.
It is hoped that future discussions will include how this body should be formed, what it sets as its objectives and identify Bellingham Ward representatives who will be willing to be nominated and engage as elected and appointed office-bearers of the new body.
Even the working title "Bell Green Action Group" is not fixed in stone – that will be the prerogative of the body to select its own name if and when it has been formed.
There are significant differences and many similarities between what Neighbourhood Forums and Civic Societies do and how they function. I can provide links to describe best what the details of the difference are. For now, I will restrict it to these points: Neighbourhood Forums focus on Planning Issues, are formally recognised by the Local Planning Authority (LPA) and having done its work, can be disbanded; a Civic Society can focus on much wider issues that will benefit its area, can still be recognised by the LPA, can review planning applications on a case-by-case basis, and elect to conduct many other functions and assist and support small businesses.
Should discussion progress to a point where there is a sufficient and identifiable number of people and businesses who want to engage, meetings could be convened with the purpose of formalising arrangements and setting constitutional matters in motion.
The Proposed Boundary
It is proposed that the existing Ward boundary for Bellingham Ward be adopted with the addition of a limited number of additional areas that overlook Bell Green or will be directly affected by proposals for that site.
It is NOT proposed for the meantime to adopt any wider areas such as Sydenham for example where impacts may only be of an indirect nature.
A Short History
Events in 2021
In the early part of 2021, I was approached by the late Cllr Sue Hordijenko, one of our Ward's councillors. Sue's early demise was a great loss to our Ward and to Lewisham Council. As well as being an excellent and conscientious councillor she had a real way with her regarding communicating with people.
Sue had set plans in motion for the formation of a representative body from within Bellingham Ward with the unambiguous intent of representing Bellingham Ward.
This was against a backdrop where the Sydenham Society had made several failed calls over a few years for Bellingham residents to join in their efforts to form a body or group that was centred on Bell Green. This was an essential issue to Sydenham Society as LB Lewisham was making it plain that as Sydenham Society had no representative presence or membership in Bellingham Ward, the council could no longer recognise them as body who could validly represent Bellingham.
At that stage, Sue was contacting people that she thought would be interested in engaging in the formation process. Sue intended to recruit Cllr Liam Curran to assist in the process as he had extensive experience in the formation of a similar body in Grove Park. Cllr Curran, whilst a resident of Bellingham Ward is councillor for a Sydenham Ward with links to the Sydenham Society.
After Cllr Hordijenko's passing, Cllr Curran spoke to me several times about re-starting the process.
Invitations were issued to engage in a Bell Green Neighbourhood Forum inaugural Zoom meeting on July 24, 2021.
Details were posted in the public domain a few days before the planned Zoom meeting. Regrettably, the proposals differed significantly and materially from those being discussed within the Ward and a concern quickly emerged that virtually no Bellingham residents' names were present on the invitation list although the names of Cllr Jacq Paschoud, Cllr Alan Hall and the newly elected Cllr Rachel Onikosi were present.
It also became evident that the subject matter had substantially changed and Cllr Curran and Julia Webb, a Sydenham resident and Sydenham Society member, were making written proposals for a radically altered plan to launch a group that would add and embrace substantial parts of Sydenham and exclude parts of the existing Bellingham Ward.
On being presented with a query on why this narrow list of invitees was being used and why this radically modified and unrecognisable proposal was being presented at the meeting, Cllr Curran suggested that a misunderstanding must have arisen.
Not so, Cllr Curran, there never was any misunderstanding on our part but then facts  which prove inconvenient can be so troublesome.
And certainly not to an extent where any proposals that were not focused on Bellingham Ward and proposed to create a body whose boundaries embraced portions of Sydenham could or would be deemed acceptable.
Additional queries about what the source of these proposals were, remain resolutely unanswered by Cllr Curran and Julia Webb. They have been invited to provide details of who is formulating their proposals, who is drafting their publications and graphics and from what source is funding that is meeting any costs being raised. Inexplicably, in what should be an open and transparent process, they have elected not to do so.
Julia Webb made public statements which emerged later to assert it always had been intended that the anonymised group forming around them would move their own agenda forward.
The first meeting, chaired by Cllr Curran, heard a multi-zone cross ward proposal being made.
Several speakers made very constructive contributions. These included input from a few Bellingham residents who had not received specific invites but who had been alerted by others that the meeting was taking place.
The plan proposed by Cllr Curran was expressly and specifically rejected by some Bellingham residents.
Notes of the meeting were not produced and material published subsequently on media streams specifically excludes details of submissions made at the meeting by those Bellingham residents who were present.
Cllr Alan Hall committed to submitting a request to Lewisham Council to release a sum in the order of £12,000 to meet commissioning and communication costs for the setup of a Bellingham group. It was to be requested that this funding would be released from a pool of unspent s106 monies valued at more than £2.4m that the Council had confirmed in writing that they still held. An update on the response to that request is still awaited.
It seems the collective voice of Bellingham Ward remains at significant risk of being silenced in the collaborative actions of Julia Webb and Cllr Curran.
The Sydenham led group clearly have some good ideas and it could be anticipated they have identified some problems and key issues within Sydenham's boundaries. Let that group therefore focus on those areas of Sydenham and let that area benefit from the forming of a group and leave those areas that lie within Bellingham Ward to be dealt with those who know and deal with issues in our ward on a day-to-day basis, namely Bellingham residents and businesses.
Hence the existence and launching of this website and the need to collate the views of Bellingham Ward's residents and businesses that will ensure that proposals raised are noted and exist in the record.
Competing Proposals
The Bellingham Submissions – Responses to Local Draft Plan
It should be noted that with the short time between Cllr Sue Hordijenko first approaching me, her untimely passing and the deadline for submissions to made to the call for responses to the Consultation on the Draft Local Plan by 11 April 2021, this response was prepared by me alone and was NOT subject to any consultation within Bellingham.
Comments and debate are very welcome. It is recognised that some residents will not be aware of some of the historic events around unspent s106 monies [confirmed in writing by the Council to be at least £2.4m] that date back to 1994 and remain in council coffers. As a newly formed group we would be positioned potentially to exercise influence on the Council as to how residents of the Ward would want this unspent money to be disbursed, adherent to a meaningful timetable that does not replicate the 25+ year delay incurred since 1994.
The response to calls for submissions on the Draft Local Plan in return is awaited from LB Lewisham.
During the preliminary meeting Bellingham residents made several valid suggestions and these have been appended at the end of this section. Where there is overlap – the proposal has not been duplicated.
Objectives and Aspirations for Bell Green and Bellingham Ward
This portion of the submission focuses on LSA3 – Bell Green and Lower Sydenham and the site allocations defined for Lewisham's South Area. Specifically for Site Allocations 1 to 6.
A significant opportunity to improve visual enhancement for the Public Realm. Approaches to the Bell Green locus from three major road arteries will benefit from improvements.
Augment transport links for Bell Green and improve connections to town centres and nearby railway stations and include enhancement to cycle and pedestrian walking routes.
Radical redesign of the entire road system, in an area that extends to and embraces Perry Hill's junction with Selworthy Road, Perry Rise to its junction with Adamsrill Road, the entire Bell Green gyratory system, Southend Lane to its junction with Moremead Road and Sydenham Road.
The design principles must be rooted in public consultation and must seek, as a primary issue to minimalize air pollution by reducing the frequency of stopping points in the flow of traffic round and through the entire system.
It could be calculated that timeframes for the delivery of such a comprehensive proposal will be concomitant with the delivery of outcomes from nationally-led policies which deliver significant reduction in the use of polluting vehicles in all classes. That might be characterised as a win-win outcome.
Radically redesign the existing rail bridge at Southend Lane and enhance it with the provision of integrated pedestrian safety measures with the provision of safe footpaths on both sides of the roadway. The bridge should be rebuilt with a design that both widens it and permits, as a minimum, the doubling of the width of the carriageway and increase its height thus improving the management of traffic flows and of access of double-deck buses on Southend Lane.
Create dedicated parking to the rear of Livesey Memorial Hall for the use of patrons. In normal times regular and large attendance events such as funerals, weddings and other celebratory events are hosted there and local on-street parking for residents is overwhelmed on those occasions by patrons seeking parking space.
Introduce the opportunity to sensitively provide an appropriate density of new housing units. It may be deemed appropriate to consider provision similar in scale to Bell Green Phase III development.
Reprovision and expand all necessary local services within new developments in the area that will serve the increased number of residents. Health centre care, dental care, schools and nursery provision and other social care needs must be addressed.
Introduce appropriate volumes of retail and commercial floor space.
Introduce a policy for all car parks requiring conformance with ACPO and Home Office Scientific Development Branch standards to introduce secure car park status with good quality design, improved lighting, controlled access and CCTV coverage.
Introduce a policy to install rapid-charge points for EVs around this area and in publicly owned car parks.
Expand the defined Area 1 Former Bell Green Gas Holders to add the entirety of The Livesey Memorial Hall, its grounds, former bowling green and former tennis court.
The listed status of three elements, Livesey Hall War Memorial Grade II, Livesey Memorial Hall Grade II and Livesey Memorial Hall Boundary Wall Grade II on that expanded site is fully recognised. The Council is invited to accept that the non-listed areas can be sensitively reprovisioned, with or without Designation as Local Green Space, in a variety of combinations to enhance the Public Realm aspects and provide areas that can be of beneficial use to residents and visitors without compromise to the listed elements.
Draft Local Plan: Key spatial objectives: Bellingham and Bell Green extracts
Key Spatial Objectives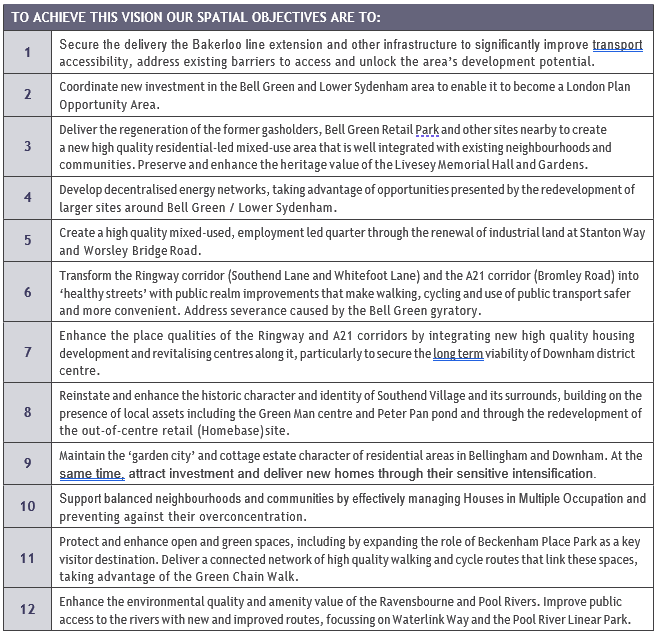 The Key Spatial Objectives are supported.
The arrival of BLE would improve transport accessibility and thereby enhance the attractiveness of development in the area. Plans, though, for options that include relocation or addition of a station closer to Bell Green is far from providing certainty in terms its deliverability. At the point in the timeframe for the DLLP consultation, funding for BLE Phase 1 has just been approved. Firm delivery timetables for Phase 1 remain uncertain. Approvals in principle for Phase 2 are not secure nor is funding and thereby deliverability for Phase 2 cannot be forecast with any level of confidence beyond the 50% range.
The absence of certainty on lead times and delivery timetables highlight an observable over-reliance on delivery of Phase 2 within the DLLP which the Council must necessarily re-assess.
As an example, to set Objective 1 as the highest priority could be viewed as an unnecessary constraint on delivery of other objectives and factors that would deliver better results on the short and medium term for Bell Green.
An example of an unnecessary deferral would be the delivery of a widened and heightened bridge with improvements to pedestrian safety measures on Southend Lane. To defer those works because it has insufficient priority or it may have a design conflict with any new or relocated station on Southend Lane could not be deemed acceptable by a body of Ward residents who have waited for bridge improvement works to be delivered for 25+ years. A contribution of s106 monies that the Council has now acknowledged in writing is unspent and is being held in the Council's account would beneficially assist in direct negotiations with Network Rail over the contributory costs of renewing the bridge. The final value of these s106 monies has not been yet established by the Council, after a further year-plus delay because of the pandemic. Last correspondence confirmed it was in the order of £2.4m.
The Council is invited to acknowledge that a thorough re-examination of priorities, across short, medium and long term objectives will constitute a major confidence building exercise for a community in a geographic location where progress is observably minimal.
Engagement by the community in consultations leading to development of a Master Plan requires a restoration of confidence in that same community that their efforts and contributions are valued.
Proposals Made by Bellingham Residents at the 24 July Meeting
"Greening" of Bellingham streets by providing support for grant funding applications.
Improve planting and "greening" of the large-scale car park areas around the retail units at Bell Green.
Improve the general condition of the many severely damaged footpaths in the Ward.
Address how air quality can be improved.
Generate support for local nurseries by assisting the securing of funding for the provision of equipment, toys and play material.
Competing Proposals
The Bellingham led Proposed Area – Draft for 24 July Meeting
The Bellingham Ward boundary which had been the original area defined to be the subject area for the setting up of the body.
Shown here juxtaposed with adjacent wards in a drawing prepared for Consultation for the Draft Local Plan conducted in early 2021 by Lewisham Council.
There was no proposal for a cross-ward body in early discussions.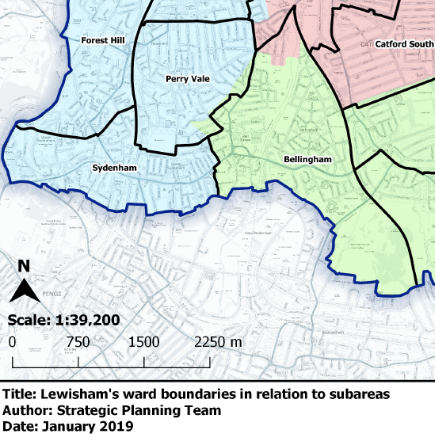 Competing Proposals
The Sydenham-led Proposals
For details, please view the graphics published by this group for both the inaugural and follow-up meetings.
The graphic with the title Boundary Options for Discussion Rev P2 2021 12 07 is presented which, it would appear, offers no options that could be considered by participants.
It offers a single Boundary scheme and single no-option proposals and does not include real alternatives.
Any explanation is absent about why this paucity of options exists.
There is no presentation of any benefits analysis.
Potential dis-benefits whereby disagreements arise in a cross-ward forum and how such a situation might be resolved and how a cross-ward Group would operate better when compared with a single-ward option, is not explained.
How is funding to be provided?
How is it foreseen that equitable distribution and appointment of office-bearers for the new body being agreed if there is an absence or insufficient numbers of candidates available in each zone?
This does not mean analysis has not been conducted. It is simply the case it has not been presented despite a six-week interval between meetings. It could be anticipated that parties to the consultation would have been assisted by the presentation of such analysis to aid their understanding of the Sydenham-led proposals.
Competing Proposals
The Sydenham-led Group's Proposed Area – Draft for 24 July Meeting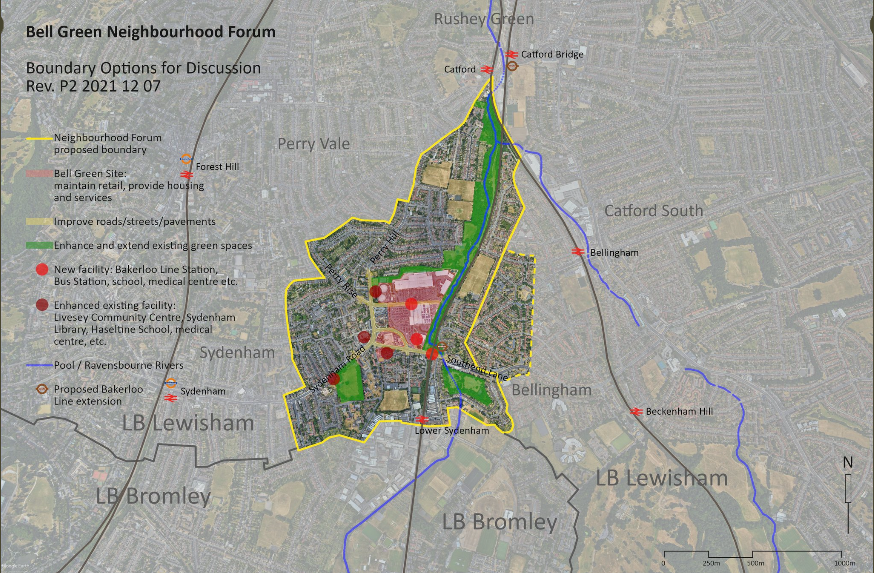 Note: It is marked Boundary Options for Discussion Rev. P2 2012-12-07
No earlier version has been presented.
The Sydenham-led Group's Revised Proposals – for 25 September Meeting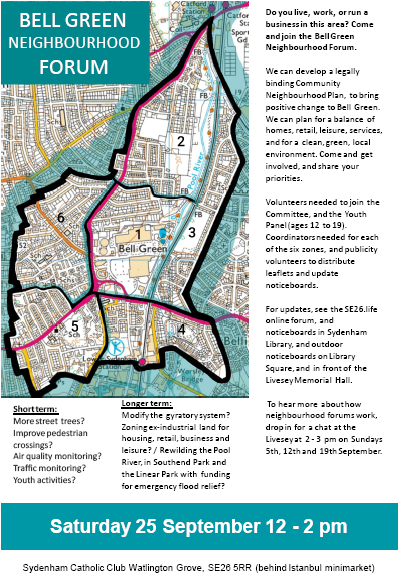 Bellingham Ward Views
Pages where views from Bellingham Residents and Businesses can be published.
At a later date and if and when contributors make submissions, ALL contributions, questions and responses that I receive via email will be published here.
If sufficient volumes are generated and demand emerges perhaps successors to the site can convert it to capture logins and enable forum-style direct entries and responses to be made.